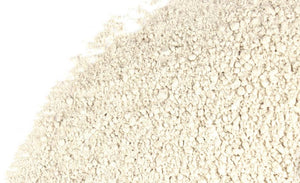 Bentonite Clay Powder
Regular price $20.00 Sale
Scientific Name - hydrous silicate of alumina
Origin - USA
Bentonite clay is a naturally occurring by product of volcanic ash exposed to wind and water that has the ability to absorb up to 10 times its weight in water
It is added to natural body powders, usually in combination with corn starch or orris root powder. Moistened with a small amount of water, bentonite clay makes an excellent facial mask to draw out impurities from the skin.
Use to make facial masks and body powders and to thicken homemade lotions, creams and other cosmetics.
The montmorillonite clay Bentonite is a medicinal form of earth used for centuries for nutritional supplementation and detoxification.
It meets the standards of the National Formulary for use in pharmaceutical preparations such as, acne lotions, medicinal skin creams, ointments, skin creams, salves, tablet binding, powder preparations, and much more.
It is used in cosmetic preparations as a pigment binder and suspending agent. It is effective as a thickener in lotions, creams, liquid facial cleansers, anti-dandruff shampoos, body powders, deodorant sprays, deodorant sticks, and many others.