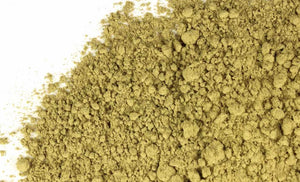 Chaparral Leaf Powder
Regular price $27.00 Sale
Botanical Name - Larrea mexicana
Other Names - grease wood, creosote
Origin - Mexico
Chaparral is a shrubby desert plant found in the southwestern U.S., Mexico and Argentina. The bush is also known as grease wood and creosote, which reference the characteristic tar-like odor the entire plant exudes after it rains
The herb has a long history of use in fighting bacterial, viral and protozoan infections, often in combination with other appropriate botanicals. Chaparral contains several antimicrobial and antioxidant compounds, which makes the herb desirable for topical use against a wide range of skin conditions. Powdered chaparral leaf is added to creams, salves and other skin care preparations.
Chaparral is not generally consumed internally because the taste is not well tolerated.
Tinctures and capsules are sometimes used by experienced clinical practitioners in small doses but be aware that there is a risk of liver toxicity with this herb, especially if taken with other medicines that utilize CP450 pathways for metabolism.
Packaging - We package all of our herbal, fruit powders and spices in a heat sealed mylar bag which serves as a very effective barrier to light, oxygen, odors, flavors, moisture, and bacteria. The bag can be resealed with any household iron or curling iron.
Precautions - Not recommended for use when nursing or during pregnancy, in those with any liver disease including hepatitis, in those with kidney disease, for children under the 12.  Those with liver disease should seek advice from a qualified health care practitioner before any consumption. There have been cases of idiosyncratic non-viral hepatitis linked with this herb. Some have experienced an allergic reaction or hypersensitivity to the plant and plant resin.
If you are taking any other herbs or supplements please consult with a qualified health-care provider before starting any new regimen. If you are pregnant or breast feeding, consult with your physician before taking.
Disclaimer - The information presented herein by Stone Creek Health Essentials is intended for educational purposes only. These statements have not been evaluated by the FDA and are not intended to diagnose, cure, treat or prevent disease. Individual results may vary, and before using any supplements, it is always advisable to consult with your own health care provider.
*  Due to the nature of natural ingredients, physical attributes may differ from lot to lot (color, taste, etc). Please consult with a representative for more information on current lot. Stone Creek Health Essentials will not accept returns on ingredients compared to lots over 30 days old. Product images are for illustrative purposes only and may differ from the actual product due to differences in monitors, product batch/lot and etc. Please contact a Stone Creek Health Essentials representative with any questions. We're here to help.