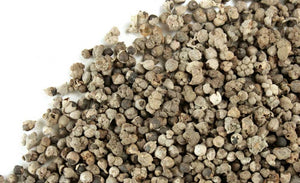 Chaste Tree (Vitex) Berries Whole
Regular price $24.00 Sale
Botanical Name - Vitex angus castus
Other Names - agnus-castus, chasteberry, monk's pepper
Origin - Morocco
Typical Preparations - Cosmetic:  Infuse chaste berry powder in carrier oil to make salves, ointments and other topical formulations
Culinary Usages -  Usually used as a tincture, however the small berries that resemble peppercorns may be cracked and sprinkled on food, producing a slight pepper taste or as a tea infusion.
Equine Usages - Ideal for shaggy seniors, moody mares, and irritable geldings. The berry of the chaste tree is thought to be particularly helpful in maintaining healthy pituitary gland function and supporting normal shedding in senior horses. In addition, it has been used for centuries to help maintain a balanced hormonal system, making it a great option for horse owners with moody mares or irritable geldings. Recommended Amount:  1 Tablespoons per day, based on 1000 lb. Horse.
Chaste berry is the fruit of Vitex agnus-castus, a small tree or shub in the mint family native to the Mediterranean region and some parts of Asia. The plant is also known as Chaste Tree and Monk's Pepper, a reference to its reputation for promoting virtuous behavior, especially chastity.
Packaging - We package all of our herbal, fruit powders and spices in a heat sealed mylar bag which serves as a very effective barrier to light, oxygen, odors, flavors, moisture, and bacteria. The bag can be resealed with any household iron or curling iron.
Precautions - Vitex berry is not recommended for use with hormonal contraceptives.  If you are taking any other herbs or supplements please consult with a qualified health-care provider before starting any new regimen. If you are pregnant or breast feeding, consult with your physician before taking.
Disclaimer - The information presented herein by Stone Creek Health Essentials is intended for educational purposes only. These statements have not been evaluated by the FDA and are not intended to diagnose, cure, treat or prevent disease. Individual results may vary, and before using any supplements, it is always advisable to consult with your own health care provider.
*  Due to the nature of natural ingredients, physical attributes may differ from lot to lot (color, taste, etc). Please consult with a representative for more information on current lot. Stone Creek Health Essentials will not accept returns on ingredients compared to lots over 30 days old. Product images are for illustrative purposes only and may differ from the actual product due to differences in monitors, product batch/lot and etc. Please contact a Stone Creek Health Essentials representative with any questions. We're here to help.