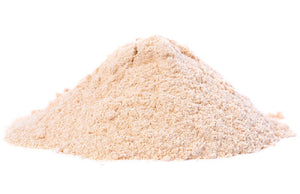 Chicken Collagen Powder - 90% Protein
Regular price $48.25 Sale
Source - Chicken
Origin - France
This pharmaceutical-grade collagen hydrolyzed contains no fillers, additives or anti-caking agents. It is assayed to contain at least 90% protein.
Collagen is used in nutritional supplements to support healthy skin and muscle. Although taken as a protein supplement, it should not replace protein found in foods such as fish, beef, poultry and whey protein because it has insufficient amounts of cysteine and methionine. In conjunction with a balanced diet and exercise regimen it can significantly improve muscular development, healthy skin and joint flexibility.
Taken as a food supplement, collagen hydrolyzed provides the proper ratios of amino acids needed for collagen production.
Hydrolyzed collagen contains naturally-occurring glucosamine and hyaluronic acid, which support connective tissue repair and increase hydrating and volumizing effects - a result of the natural ability of connective tissues to hold water.
Packaging - We package all of our herbal, fruit powders and spices in a heat sealed mylar bag which serves as a very effective barrier to light, oxygen, odors, flavors, moisture, and bacteria. The bag can be resealed with any household iron or curling iron.
Precautions - No known precautions.  If you are taking any other herbs or supplements please consult with a qualified health-care provider before starting any new regimen. If you are pregnant or breast feeding, consult with your physician before taking.
Disclaimer - The information presented herein by Stone Creek Health Essentials is intended for educational purposes only. These statements have not been evaluated by the FDA and are not intended to diagnose, cure, treat or prevent disease. Individual results may vary, and before using any supplements, it is always advisable to consult with your own health care provider.
*  Due to the nature of natural ingredients, physical attributes may differ from lot to lot (color, taste, etc). Please consult with a representative for more information on current lot. Stone Creek Health Essentials will not accept returns on ingredients compared to lots over 30 days old. Product images are for illustrative purposes only and may differ from the actual product due to differences in monitors, product batch/lot and etc. Please contact a Stone Creek Health Essentials representative with any questions. We're here to help.