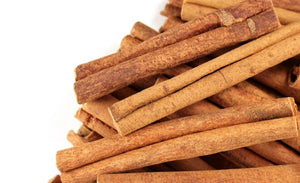 Cinnamon sticks - 2 3/4 inch
Regular price $23.75 Sale
Botanical Name - Cinnamomum cassia
Other Names - Laurus Cassia, Cinnamomum Aromaticum, cinnamon, Chinese cinnamon, Chinese cassia, cinnamomum zeylanicum, Bastard Cinnamon, Cassia lignea, Cassia Bark, Canton Cassia.
Origin - Indonesia
Cinnamomum cassia is native to China and Burma and is commonly known as Chinese Cinnamon. Its bark is actually used to flavor food and beverages, just like original Cinnamon.
Cinnamomum cassia is valued for its ability to kill bacteria, fungi and viruses. It is used to treat a wide range of conditions, especially by Chinese medical practitioners.
As its name of Bastard Cinnamon implies, the product of this tree is usually regarded as a substitute for that of the Cinnarmomum zeylanicum of Ceylon, which it closely resembles. By no meaningful definition is Ceylon cinnamon more "real" than cassia. Both belong to the genus Cinnamomum. Both are ground into powders that can deliciously flavor cookies, yeast breads, and tagines. Both have been used as spices (and medicine) for centuries.  The main difference between the two is that Ceylon Cassia has a high coumarin content.
Typical Preparations - Whole sticks are used to infuse cinnamon flavor into soups, culinary oils, hot tea and various liquors. Include in floral displays and potpourri mixes. Simmer in wine or brandy. Tincture in vodka or witch hazel to produce a base for perfumes and aroma sprays.
Packaging - We package all of our herbal, fruit powders and spices in a heat sealed mylar bag which serves as a very effective barrier to light, oxygen, odors, flavors, moisture, and bacteria. The bag can be resealed with any household iron or curling iron.
Precautions - No known precautions.  If you are taking any other herbs or supplements please consult with a qualified health-care provider before starting any new regimen. If you are pregnant or breast feeding, consult with your physician before taking.
Disclaimer - The information presented herein by Stone Creek Health Essentials is intended for educational purposes only. These statements have not been evaluated by the FDA and are not intended to diagnose, cure, treat or prevent disease. Individual results may vary, and before using any supplements, it is always advisable to consult with your own health care provider.
*  Due to the nature of natural ingredients, physical attributes may differ from lot to lot (color, taste, etc). Please consult with a representative for more information on current lot. Stone Creek Health Essentials will not accept returns on ingredients compared to lots over 30 days old. Product images are for illustrative purposes only and may differ from the actual product due to differences in monitors, product batch/lot and etc. Please contact a Stone Creek Health Essentials representative with any questions. We're here to help.