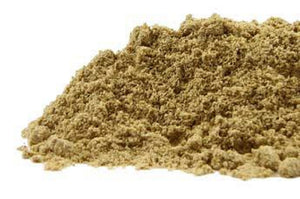 Cramp Bark Powder
Regular price $31.00 Sale
Botanical Name - Viburnum opulus
Other Names - Guelder Rose, High-Bush Cranberry, European Cranberry, Snowball Tree, Water Elder, Kings Crown, May Rose
Origin - USA
Cramp bark is a flowering shrub found throughout moist woodlands of North America, although it is also cultivated as a garden ornamental.  Dried bark, harvested in the autumn before leaves change color, or in the spring before leaves open.
Typical Preparations - Infuse in oil or tincture for use in salves, ointments, creams and lotions. May be used to make tea. Powdered cramp bark can also be encapsulated as a dietary supplement. 
Packaging - We package all of our herbal, fruit powders and spices in a heat sealed mylar bag which serves as a very effective barrier to light, oxygen, odors, flavors, moisture, and bacteria. The bag can be resealed with any household iron or curling iron.
Precautions - Use with caution if you also take pharmaceutical medications to lower blood pressure. If you are taking any other herbs or supplements please consult with a qualified health-care provider before starting any new regimen. If you are pregnant or breast feeding, consult with your physician before taking.
Disclaimer - The information presented herein by Stone Creek Health Essentials is intended for educational purposes only. These statements have not been evaluated by the FDA and are not intended to diagnose, cure, treat or prevent disease. Individual results may vary, and before using any supplements, it is always advisable to consult with your own health care provider.
*  Due to the nature of natural ingredients, physical attributes may differ from lot to lot (color, taste, etc). Please consult with a representative for more information on current lot. Stone Creek Health Essentials will not accept returns on ingredients compared to lots over 30 days old. Product images are for illustrative purposes only and may differ from the actual product due to differences in monitors, product batch/lot and etc. Please contact a Stone Creek Health Essentials representative with any questions. We're here to help.
*  In purchasing, international buyers agree to assume the risk of arrival of all items. We cannot replace lost or seized items. You will be required to confirm that you agree to these terms before items can be sent.