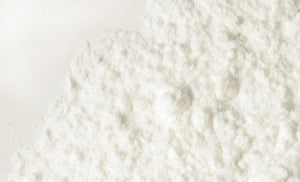 Cream of Tartar
Regular price $26.00 Sale
Botanical Name - Adosonia gregoril
Origin - Spain
Cream of tartar, known in chemistry circles as potassium bitartrate or potassium hydrogen tartrate, is a crystalline substance that precipitates out of solution when grapes destined to become wine undergo fermentation. You might notice these tiny crystals, referred to as beeswing in the wine-making industry, buildup on the underside of wine corks at home. Although this may seem like a fairly modern "discovery," there is evidence that cream of tartar was in use at least 7,000 years ago.
The powder has many culinary uses. For one thing, it's a component of some varieties of baking powder. In this capacity, and also in recipes that include baking soda, cream of tartar produces carbon dioxide, which makes pancakes, biscuits and other baked goods rise. It also prevents the crystallization of sugars, which is why it is essential in confectionary treats like Turkish delight. Beaten with egg whites, cream of tartar lends stability to meringues and meringue toppings.
Cream of tartar can be used as a laundry aid or metal polish by mixing it with lemon juice or distilled vinegar to form a paste.
Packaging - We package all of our herbal, fruit powders and spices in a heat sealed mylar bag which serves as a very effective barrier to light, oxygen, odors, flavors, moisture, and bacteria. The bag can be resealed with any household iron or curling iron.
Precautions - No known precautions.  If you are taking any other herbs or supplements please consult with a qualified health-care provider before starting any new regimen. If you are pregnant or breast feeding, consult with your physician before taking.
Disclaimer - The information presented herein by Stone Creek Health Essentials is intended for educational purposes only. These statements have not been evaluated by the FDA and are not intended to diagnose, cure, treat or prevent disease. Individual results may vary, and before using any supplements, it is always advisable to consult with your own health care provider.
*  Due to the nature of natural ingredients, physical attributes may differ from lot to lot (color, taste, etc). Please consult with a representative for more information on current lot. Stone Creek Health Essentials will not accept returns on ingredients compared to lots over 30 days old. Product images are for illustrative purposes only and may differ from the actual product due to differences in monitors, product batch/lot and etc. Please contact a Stone Creek Health Essentials representative with any questions. We're here to help.
*  In purchasing, international buyers agree to assume the risk of arrival of all items. We cannot replace lost or seized items. You will be required to confirm that you agree to these terms before items can be sent.