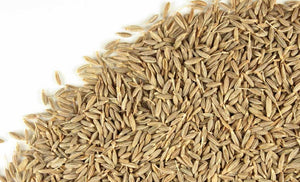 Cumin Seed Whole
Regular price $21.00 Sale
Botanical Name - Cuminum cyminum
Other Names - Jiraka
Origin - India
Cumin is a member of the parsley family and native to India and the eastern Mediterranean. Both the whole and ground seed is widely used in Middle Eastern and Indian cooking as well as in Mexican cuisine. In Morocco, the spice is kept in a small container at the table like salt and pepper so that individuals can season their food to taste
Use whole cumin seed to add earthy flavor to soups, stews, chili, breads and cheese.
Cumin has a warm, pungent flavor that goes well with cardamom, cinnamon, red pepper, fennel, thyme and oregano.
Cumin seed is used to flavor breads, sausage, bean dishes and other foods. Toss toasted whole seeds over soups and stews. The seed is used in India to produce culinary oils and pickling spice blends.
Packaging - We package all of our herbal, fruit powders and spices in a heat sealed mylar bag which serves as a very effective barrier to light, oxygen, odors, flavors, moisture, and bacteria. The bag can be resealed with any household iron or curling iron.
Precautions - No known precautions.  If you are taking any other herbs or supplements please consult with a qualified health-care provider before starting any new regimen. If you are pregnant or breast feeding, consult with your physician before taking.
Disclaimer - The information presented herein by Stone Creek Health Essentials is intended for educational purposes only. These statements have not been evaluated by the FDA and are not intended to diagnose, cure, treat or prevent disease. Individual results may vary, and before using any supplements, it is always advisable to consult with your own health care provider.
*  Due to the nature of natural ingredients, physical attributes may differ from lot to lot (color, taste, etc). Please consult with a representative for more information on current lot. Stone Creek Health Essentials will not accept returns on ingredients compared to lots over 30 days old. Product images are for illustrative purposes only and may differ from the actual product due to differences in monitors, product batch/lot and etc. Please contact a Stone Creek Health Essentials representative with any questions. We're here to help.
*  In purchasing, international buyers agree to assume the risk of arrival of all items. We cannot replace lost or seized items. You will be required to confirm that you agree to these terms before items can be sent.