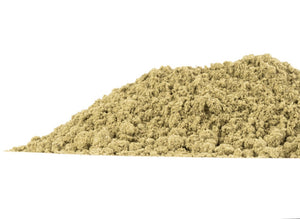 Damiana Leaf Powder
Regular price $27.00 Sale
Botanical Name - Turnera diffusa
Other Names - Old Woman's Broom, Mexican Damiana, Mexican holly, Herba de la Pastora,
Origin - Mexico
In Mexico, where the powdered herb is used to make a liquor for mixing margaritas. It was also an ingredient in Pemberton's French Wine Coca, a 19th century patent medicine and precursor to the original formula for Coca Cola.
Powdered damiana leaf can be infused in carrier oil for use in salves and balms, used to make cosmetic powders, poultices and lotions for cosmetic topical use, encapsulated for supplemental use, as well as a food additive sprinkled lightly over salads, soups and cooked vegetables. 
Damiana has a somewhat bitter flavor with an aroma similar to chamomile: slightly sweet, mildly earthy. This is likely because both the chemical makeup of these plants share certain volatileoil compounds, such as calamine derivatives.
Combines well with spinach and other bitter greens, such as arugula and dandelion.
Precautions - This herb is highly cyanogenic, which means that compounds in the plant may form cyanides when ingested and become toxic with high dosages. At the time of this writing, the state of Louisiana bans the sale or distribution of this herb for human consumption, citing cases of deliberate substance abuse. Due to potential estrogenic effects of this herb, it should not be used during pregnancy or if there is a history of a hormone-driven cancer. Because this herb may affect blood glucose levels, it may interfere with diabetes drugs as well as other medications. If you are taking any other herbs or supplements please consult with a qualified health-care provider before starting any new regimen. If you are pregnant or breast feeding, consult with your physician before taking.
Disclaimer - The information presented herein by Stone Creek Health Essentials is intended for educational purposes only. These statements have not been evaluated by the FDA and are not intended to diagnose, cure, treat or prevent disease. Individual results may vary, and before using any supplements, it is always advisable to consult with your own health care provider.
*  Due to the nature of natural ingredients, physical attributes may differ from lot to lot (color, taste, etc). Please consult with a representative for more information on current lot. Stone Creek Health Essentials will not accept returns on ingredients compared to lots over 30 days old. Product images are for illustrative purposes only and may differ from the actual product due to differences in monitors, product batch/lot and etc. Please contact a Stone Creek Health Essentials representative with any questions. We're here to help.
*  In purchasing, international buyers agree to assume the risk of arrival of all items. We cannot replace lost or seized items. You will be required to confirm that you agree to these terms before items can be sent.