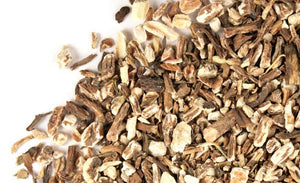 Dandelion root c/s; Cert. Org
Regular price $33.00 Sale
Botanical Name - Taraxacum officinale
Other Names - Lion's Tooth, Dog's Lettuce, Monk's Crown, Swine's Snout.
Origin - Poland
To many people, dandelion is a nuisance weed that readily invades lawns and patio crevices. While the plant does indeed have exceptional survival skills, it is also globally recognized as a useful herb with potent antioxidant and nutritive qualities. The entire plant is edible and is a good source of fiber, protein, B complex vitamins, vitamin C, calcium, iron, magnesium, phosphorus, potassium and zinc. Dandelion also provides a significant amount of beta-carotene, which the body uses to produce vitamin A.
Dandelion root contains taraxacin and other bitter principles that are responsible for the herb's astringent effects. The dried root is traditionally used to prepare tinctures and tonics, including herbal bitters that are taken before or with meals to stimulate digestion.
Incorporate dandelion root infusions in skin washes when an astringent effect is desired. Use in tea blends and as a coffee substitute. Dandelion root is also commonly used to prepare cleansing tonics and digestive bitters. 
Precautions - Use with caution if you have a known allergy to other plants in the daisy family, such as chrysanthemum or ragweed. If you are taking any other herbs or supplements please consult with a qualified health-care provider before starting any new regimen. If you are pregnant or breast feeding, consult with your physician before taking.
Disclaimer - The information presented herein by Stone Creek Health Essentials is intended for educational purposes only. These statements have not been evaluated by the FDA and are not intended to diagnose, cure, treat or prevent disease. Individual results may vary, and before using any supplements, it is always advisable to consult with your own health care provider.
*  Due to the nature of natural ingredients, physical attributes may differ from lot to lot (color, taste, etc). Please consult with a representative for more information on current lot. Stone Creek Health Essentials will not accept returns on ingredients compared to lots over 30 days old. Product images are for illustrative purposes only and may differ from the actual product due to differences in monitors, product batch/lot and etc. Please contact a Stone Creek Health Essentials representative with any questions. We're here to help.
*  In purchasing, international buyers agree to assume the risk of arrival of all items. We cannot replace lost or seized items. You will be required to confirm that you agree to these terms before items can be sent.