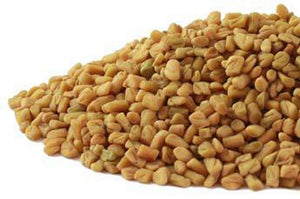 Fenugreek Seed Whole
Regular price $18.00 Sale
Botanical Name - Trigonella foenum-gra.
Other Names - Greek hay, Greek clover, alholva (Spanish), methi or medhika (Ayurveda), hu lu ba (Chinese), bird's foot
Typical Preparations - Dried, ripe seed either whole or powdered as a culinary spice, encapsulated or made into a tincture. Dried, ripe seed powdered made into a paste for use as a poultice.
Equine Usages - Horses usually love the flavor.  These hard little seeds function to strengthen the respiratory system, the mucus membranes, and the sinus in cases of upper respiratory infection, sinus issues, or congestion.  Fenugreek also has strong properties of regulating and stimulating the lymphatic system.  By helping to move lymph through the body, it can be helpful when treating anhydrosis (the 'puffs'), or any condition where there is stuck lymph.  Recommended Amount:  2 Tablespoons per day, based on 1000 lb. Horse.
Fenugreek is an annual herb native to the Mediterranean and Asia that produces highly aromatic seeds. The foliage and the seed of the plant are important agricultural crops and are featured in the cuisines of the region. In cooking, the bittersweet flavor of the seed improves with dry roasting or pan frying. Powdered fenugreek seed is usually blended with other spices and herbs to produce seasoning mixes for soups, sauces, stews and curries.
Fenugreek seed is also used as a food additive and flavoring in processed foods, most notably in artificial maple syrup. The seed is also a source of natural diosgenin, which is used to manufacture synthetic estrogen.
Packaging - We package all of our herbal, fruit powders and spices in a heat sealed mylar bag which serves as a very effective barrier to light, oxygen, odors, flavors, moisture, and bacteria. The bag can be resealed with any household iron or curling iron.
Precautions - No known precautions.  If you are taking any other herbs or supplements please consult with a qualified health-care provider before starting any new regimen. If you are pregnant or breast feeding, consult with your physician before taking.
Disclaimer - The information presented herein by Stone Creek Health Essentials is intended for educational purposes only. These statements have not been evaluated by the FDA and are not intended to diagnose, cure, treat or prevent disease. Individual results may vary, and before using any supplements, it is always advisable to consult with your own health care provider.
*  Due to the nature of natural ingredients, physical attributes may differ from lot to lot (color, taste, etc). Please consult with a representative for more information on current lot. Stone Creek Health Essentials will not accept returns on ingredients compared to lots over 30 days old. Product images are for illustrative purposes only and may differ from the actual product due to differences in monitors, product batch/lot and etc. Please contact a Stone Creek Health Essentials representative with any questions. We're here to help.
*  In purchasing, international buyers agree to assume the risk of arrival of all items. We cannot replace lost or seized items. By ordering customer confirms agreement to these terms and conditions.