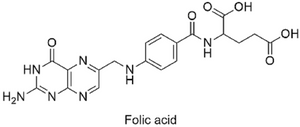 Folic Acid + B-12 V-Tabs
Regular price $25.25 Sale
Supports Healthy Homocysteine Metabolism
Folic Acid is a very important member of the B-vitamin family required for DNA synthesis and genetic repair, making an adequate supply essential for rapidly dividing cells, such as red blood cells.* Folic Acid is also necessary for the synthesis of methionine from homocysteine and can help to contribute to the healthy function of both the cardiovascular and nervous system.*
From the FDA's website: "0.8 mg folic acid in a dietary supplement is more effective in reducing the risk of neural tube defects than a lower amount in foods in common form. FDA does not endorse this claim. Public health authorities recommend that women consume 0.4 mg folic acid daily from fortified foods or dietary supplements or both to reduce the risk of neural tube defects."
Natural color variation may occur in this product.
Disclaimer - The information presented herein by Stone Creek Health Essentials is intended for educational purposes only. These statements have not been evaluated by the FDA and are not intended to diagnose, cure, treat or prevent disease. Individual results may vary, and before using any supplements, it is always advisable to consult with your own health care provider.
*  Due to the nature of natural ingredients, physical attributes may differ from lot to lot (color, taste, etc). Please consult with a representative for more information on current lot. Stone Creek Health Essentials will not accept returns on ingredients compared to lots over 30 days old. Product images are for illustrative purposes only and may differ from the actual product due to differences in monitors, product batch/lot and etc. Please contact a Stone Creek Health Essentials representative with any questions. We're here to help.
*  In purchasing, international buyers agree to assume the risk of arrival of all items. We cannot replace lost or seized items. By ordering customer confirms agreement to these terms and conditions.