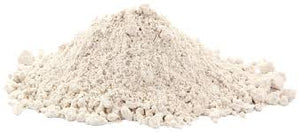 Food Grade Diatomaceous Earth
Regular price $10.00 Sale
How Diatomaceous Earth Works
When Diatomaceous Earth is taken into the body it is working 3 different ways: 
1st: As you can see from the picture (below ) of Diatomaceous Earth – (magnified 7000 times) – it looks like a cylinder full of holes–kind of like Rice Chex Cereal. This cylinder has a very strong negative charge. As these millions of cylinders move through the stomach and digestive tract, they attract and absorb bacteria, fungi, protozoa, viruses, endotoxins, pesticide and drug residues, E-Coli, and heavy metals. These are trapped inside the cylinder and passed out of the body. In addition, any larger parasites that happen to be in the stomach of digestive tract are "cut up" and killed by the sharp edges of the Diatomaceous Earth. All of these activities result in a much healthier body with less sickness. We often hear the phrase "I just feel better" with our Diatomaceous Earth users. This better feeling comes from all the "junk" being removed from the body and by giving our immune system the "jump start" it needs.
2nd: Diatomaceous Earth is very hard. On the harness scale where diamonds are a 9, Diatomaceous Earth is a 7. This is very important, because as those millions of tiny hard and sharp Diatomaceous Earth cylinders pass through the small and large intestines, they "scrub" the walls. After only a few months of taking Diatomaceous Earth, the intestine wall is no longer coated with mucus and molds but CLEAN!! The advantages of this are several:
Regular bowel movements (This is the #1 comment everyone makes about DE)
Healthier Colon. This is especially important as we get older. A clean healthy colon keeps away polyps, cancers, and ulcers. Today, many are spending thousands of dollars to get colonics to do the same thing as Diatomaceous Earth does.
Many users report increased energy and needing less sleep. This is a result of all the food and nutrients that are taken in being better absorbed into the blood stream. With a coated colon–many nutrients never get absorbed.
3rd:A small amount of Diatomaceous Earth gets absorbed into the blood stream as silica. One of the benefits of Silica is that it helps to destroy bad fats. Everyone that we know that is taking Diatomaceous Earth has lowered their cholesterol by 40-50 points. Everyone is also amazed at how their high blood pressure goes down. Go to the page on "Human Use" and review all of the benefits of silica to the body.
Sore joints and ligaments feel better
Skin clears up (acne-age spots-psoriasis)
Hair and nails are stronger and grow faster
Stronger teeth and gums
Healthier respiratory tract–less coughing
Menopause has less symptoms
Healthier urinary tract
Human Use
 Silica fades age spots
Silica stimulates metabolism for higher energy levels
Diatomaceous earth has a negative charge and bacteria has a positive charge. It is believed that diatomaceous earth sweeps bacteria out of the body by trapping it in it's honeycomb shaped skeletal form.
Silica supplementation helps repair and maintain vital lung tissues and protects them from pollution. By maintaining or restoring the elasticity of lung tissues, silica reduces inflammation in bronchitis.
It acts as a cough decreasing agent. Silica tones the upper respiratory tract (nose, pharynx, larynx) and reduces swelling because of its positive action on the lymphatic system.
Silica supplementation keeps menopause free of stress and helps to prevent many unwanted side-effects of menopause
Silica works with other antioxidants to prevent premature aging and to preserve youthfulness.
Silica can help prevent kidney stones and heal infections of the urinary tract. It is a natural diuretic which can increase excretion of urine by 30 percent, thus flushing the water-excreting system and restoring normal function to these vital organs.
The presence of sufficient silica in the intestines will reduce inflammation of the intestinal tract. It can cause disinfection in the case of stomach and intestinal mucus and ulcers. Silica can prevent or clear up diarrhea and its opposite, constipation.
Silica will help normalize hemorrhoidal tissues.
In regulating and normalizing the bowels, silica has a pleasant side effect; it can alleviate lower back pain, which often troubles the elderly.
Silica proves effective with female discharge, abscesses and ulcers in the genital area and cervix, as well as mastitis (especially for breast feeding mothers).
The intake of silica acts as a supportive treatment for inflammation of the middle ear. Because of the beneficial effectiveness on the lymphatic system, silica can be used for swelling of the lymph nodes in the throat.
Has anti-inflammatory disinfecting, absorbing and odor binding effects.
Silica can normalize circulation and regulate high blood pressure (hypertension).
Silica can decrease vertigo, headache, tinnitus (buzzing of the ears) and insomnia.
Silica can help diabetes by promoting synthesis of elastase inhibitor by the pancreas.
Silica can help arterial disease by strengthening the blood vessels. Studies confirm that with age, silica disappears from the aorta, the heart's key blood vessel thus weakening its critical connective tissue and resulting in a greater cardiac risk.
Silica can help prevent Tuberculosis.
By improving the elasticity of the joints, silica helps rheumatism.
Silica has inhibitory effects on coronary diseases.
Silica can help avoiding or alleviating Alzheimers disease by preventing the body from absorbing aluminum and may flush out aluminum from the tissues. Silica can stimulate the immune system.
Dosage:
Daily silica needs of humans are 20-30 mg. In Years past, our bodies would get enough silica from our diet. Unfortunately, many of the foods we now eat have lost their nutritional value due to soil nutrient depletion, food processing, and chemicals. Supplemental use of Perma-Guard Diatomaceous Earth is essential to total body health.
In my studies and searches of the internet, people are taking 1 or 2 heaping tablespoons of Diatomaceous Earth every day. Myself and my family take 1 heaping tablespoon per day. We mix it with grapefruit juice. Others are mixing it with water, soda pop, juice, or whatever liquid they enjoy. Some are even putting DE in protein shakes, applesauce and yogurt. Perma-Guard Diatomaceous Earth is Food Grade and very pure. There is no unpleasant taste. Since it will not dissolve, stirring several times while drinking will prevent settling. Some have experienced higher energy levels, so it is probably better not to take it right before sleeping. No worry about getting too much–any excess silica not needed by the body is automatically eliminated through the blood stream, kidneys and intestines.
For Animals-Tick Control, Worm Control
Pets: Our best friends come in all shapes and sizes. Protect them with Diatomaceous Earth. When lightly rubbed into their coats or dusted on their premises, it is very effective against fleas, ticks, lice, and other pests on pet dogs, cats, and birds. It can also be used as an organic wormer and will kill any worms or parasites the pets may have. When using as a de-wormer, mix the Diatomaceous Earth into their food as follows:
Large Cats – 1 teaspoon
Kittens – 1/4 teaspoon
Dogs 100 lbs + – 1-2 tablespoons
Dogs 50 – 100lbs – 1 tablespoon
Dogs Under 50 lbs – 1 teaspoon
Mini dogs – 1/2 teaspoon
As pets get older, they also get sore joints. With Diatomaceous Earth in their diet they will feel better. Apply to moist kennel areas to reduce odors, dry the area, and prevent pest breeding. Deodorizing and absorption are natural functions of DE, so add to kitty litter to absorb odors and keep the litter box drier.
All livestock: Horses, Cows, Pigs, Sheep, Goats, Rabbits, Chickens and others will benefit from the use of Diatomaceous Earth. It is completely safe and nontoxic.
Some of the benefits that have been observed:*
Control of fleas and ticks
Stimulates basic metabolism
Converts feed better
Reduces the desire to lick soil
Scouring or diarrhea: when fed it seems to act as a material that draws both virus and bacteria out of the body and solidifies the stool
Reduces odor and moisture in barns and stalls
Better coat and hoof condition
Keeps fly larvae from developing in manure, noticeably reducing the fly population
Reduces annual vet bills–Decreased Mortality
In Cattle: Decreased Mastitis
Dairy Cattle: Increased milk production
Kills parasites without chemicals
Better egg production, stronger eggs, and reduces overall animal stress
Added to livestock waters, will prevent algae from growing
NEVER feed any other type of DIATOMACEOUS EARTH to any animal, other than the Food Grade DIATOMACEOUS EARTH.
Household Uses
Metal Cleaner: 
Make a paste with Diatomaceous Earth and water to make a metal polish. Diatomaceous Earth also makes a very inexpensive soft scrub for the shower, sink and faucets.
Face Mask and Cleanser: 
Mix Diatomaceous Earth and water together untill you have made a paste. Apply to the face with circular scrubbing motion untill face is fully covered. Leave on face for approx. 2 min. and then wash off with warm water. Your face will be fully exfoliated and toned for pennies!!! Mix Diatomaceous Earth with your favorite cleanser and you will have cleaner, smoother skin.
Teeth Cleaner: 
Sprinkle a small amount on your favorite brand of toothpaste and brush as you normally would. You will notice that your teeth look and feel "Just went to the Dentist" Clean.
Household Pests: 
Use Diatomaceous Earth for control of roaches, silverfish, ants, bedbugs, flies, fleas, box elder bugs, scorpions, crickets, and many other insects. Diatomaceous Earth can be used in and around the home, yard, animal housing, etc. Diatomaceous Earth will not harm earthworms or beneficial soil microorganisms.