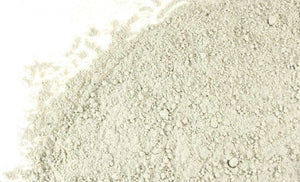 French (European) Green Powder Clay
Regular price $23.00 Sale
Other Names - Green Clay, European Green Clay, Green Illite, Montmorillonite Clay
Origin - Italy
As the name implies, French green clay comes from ancient bedrock deposits in France. However, this clay is also mined from other sites in Europe such as Italy, as well as deposits within the northwestern U.S. Wyoming, Montana, and even as far away as China. These varieties are all marketed under the moniker "French Green Clay."
Like other clays, French green clay contains iron oxides, but its characteristic green color comes from the presence of blue-green algae and chlorophyll left by decomposed plant life.
French green clay is valued for cosmetic use because of its exceptional absorbent properties and its ability to draw out impurities from the skin. The detoxifying quality of this material is best illustrated by its use in 1986 by the former Soviet Union, who used a massive quantity of French green clay to cover the failed nuclear reactor site at Chernobyl.
Our French Green clay has enormous absorbent powers due to the constitution of its micro molecules. It literally "drinks" oils, toxic substances, and impurities from your skin. Its toning action stimulates the skin. French Green clay is great for helping to clear occasional skin blemishes. Use it daily on trouble spots, or weekly as part of a complete facial treatment.
Packaging - We package all of our herbal, fruit powders and spices in a heat sealed mylar bag which serves as a very effective barrier to light, oxygen, odors, flavors, moisture, and bacteria. The bag can be resealed with any household iron or curling iron.
Precautions - No known precautions.  If you are taking any other herbs or supplements please consult with a qualified health-care provider before starting any new regimen. If you are pregnant or breast feeding, consult with your physician before taking.
Disclaimer - The information presented herein by Stone Creek Health Essentials is intended for educational purposes only. These statements have not been evaluated by the FDA and are not intended to diagnose, cure, treat or prevent disease. Individual results may vary, and before using any supplements, it is always advisable to consult with your own health care provider.
*  Due to the nature of natural ingredients, physical attributes may differ from lot to lot (color, taste, etc). Please consult with a representative for more information on current lot. Stone Creek Health Essentials will not accept returns on ingredients compared to lots over 30 days old. Product images are for illustrative purposes only and may differ from the actual product due to differences in monitors, product batch/lot and etc. Please contact a Stone Creek Health Essentials representative with any questions. We're here to help.