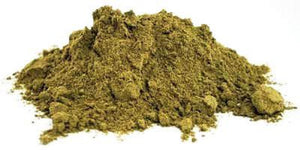 Graviola Leaf Powder (Soursop)
Regular price $30.00 Sale
Botanical Name - Annona muricata
Other Names - Soursop
Origin - Peru
Graviola, a.k.a. Soursop is the fruit of Annona muricata, a broad leaf, flowering, evergreen tree native to Mexico, the Caribbean, Central America, South America and parts of South East Asia.

Graviola powder contains significant amounts of vitamin C, vitamin B1, and vitamin B2. Graviola is also high in carbohydrates, particularly fructose and contains a unique set of phyto-chemicals called annonaceous acetogenins, which are only found in the annonaceae family (to which Graviola belongs).


Graviola has long been used around the world as a source of nutrition and to support general well-being. Each year scientific research continues to uncover even more exciting potential health benefits from Graviola which is rich in all-natural, plant-based compounds that can help to support the immune system.
Graviola can have a cleansing effect on the stomach, we recommend taking it in a phased manner so the body adjusts accordingly. Take quarter (¼) to half (½) teaspoon two (2) – three (3) times daily. Mix with functional drink formulas, teas, smoothie mixes or yogurts.