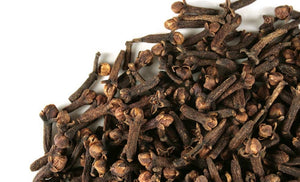 Whole Cloves
Regular price $36.00 Sale
Botanical Name - Syzgium aromaticum
Other Names - cloves, lavanga
Origin - Madagascar
For centuries, clove has been used for the preservation of food. In fact, at one time, it was more common to use the spice to keep meat from spoiling than it was to use it as a flavoring. The active constituent responsible for the warm flavor and aromatic characteristics of clove is eugenol, an antioxidant with antiseptic, anti-fungal and anti-inflammatory qualities that has been used for various purposes in the pharmaceutical industry, most notably dentistry. As a rich source of this compound, clove is also an ingredient in soaps, ointments and other cosmetics.
Whole Cloves Flavor Profile is warm and spicy with an affinity for cinnamon, allspice, nutmeg and ginger.
Typical Preparations - Infuse in oil for use as a massage oil or to make salves, ointments and other topical formulations. Use whole in baked or stewed fruits and crushed in baked goods. Tincture in alcohol or witch hazel for use as a general disinfectant. Use in simmering potpourri and in floral crafts.
Precautions - Consumption should not exceed small amounts for use as a spice. Consult a qualified healthcare practitioner before using in therapeutic doses. If you are taking any other herbs or supplements please consult with a qualified health-care provider before starting any new regimen. If you are pregnant or breast feeding, consult with your physician before taking.
Packaging - We package all of our herbal, fruit powders and spices in a heat sealed mylar bag which serves as a very effective barrier to light, oxygen, odors, flavors, moisture, and bacteria. The bag can be resealed with any household iron or curling iron.
Disclaimer - The information presented herein by Stone Creek Health Essentials is intended for educational purposes only. These statements have not been evaluated by the FDA and are not intended to diagnose, cure, treat or prevent disease. Individual results may vary, and before using any supplements, it is always advisable to consult with your own health care provider.
*  Due to the nature of natural ingredients, physical attributes may differ from lot to lot (color, taste, etc). Please consult with a representative for more information on current lot. Stone Creek Health Essentials will not accept returns on ingredients compared to lots over 30 days old. Product images are for illustrative purposes only and may differ from the actual product due to differences in monitors, product batch/lot and etc. Please contact a Stone Creek Health Essentials representative with any questions. We're here to help.