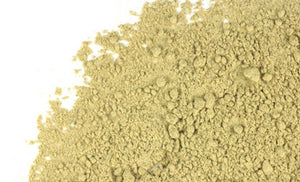 Wormwood Herb Powder
Regular price $28.00 Sale
Botanical Name - Artemisia absinthium
Origin -   Europe and North America
Other Names - absinthe wormwood, green ginger.
Common wormwood is a perennial herb found in Europe and North America.
While the plant is considered an invasive weed to some, it is also planted to keep pests away from other plants. In fact, the name wormwood is a reference to its long history of use as a vermifuge and natural insect control agent.
Typical Preparations - Soaked in wine or other spirits, as a tea, in some dream and sleep pillows, as a liquid herbal extract and sometimes found in capsules
Packaging - We package all of our herbal, fruit powders and spices in a heat sealed mylar bag which serves as a very effective barrier to light, oxygen, odors, flavors, moisture, and bacteria. The bag can be resealed with any household iron or curling iron.
Precautions - Wormwood's rather unsavory reputation and the banning of absinthe in the United States has added to the glamour and mystery surrounding it. The active constituent thujone, most often absinthol, can be toxic in high doses, and may induce hallucinogenic visions. Wormwood has a long association with both bitterness and liquor, being an ingredient in Pernod, vermouth, absinthe and other alcoholic spirits.
Specific: This herb contains thujone, which can produce convulsions in large doses. Use with caution. Not for use during pregnancy or lactation. Not for long-term use; do not exceed recommended dose. Not to exceed 1.5 g of dried herb in tea, two to three times daily. If you are taking any other herbs or supplements please consult with a qualified health-care provider before starting any new regimen. If you are pregnant or breast feeding, consult with your physician before taking.
Disclaimer - The information presented herein by Stone Creek Health Essentials is intended for educational purposes only. These statements have not been evaluated by the FDA and are not intended to diagnose, cure, treat or prevent disease. Individual results may vary, and before using any supplements, it is always advisable to consult with your own health care provider.
*  Due to the nature of natural ingredients, physical attributes may differ from lot to lot (color, taste, etc). Please consult with a representative for more information on current lot. Stone Creek Health Essentials will not accept returns on ingredients compared to lots over 30 days old. Product images are for illustrative purposes only and may differ from the actual product due to differences in monitors, product batch/lot and etc. Please contact a Stone Creek Health Essentials representative with any questions. We're here to help.