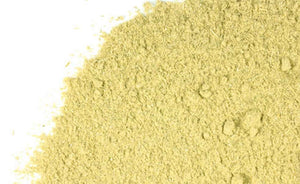 Yarrow Flowers Powder
Regular price $25.00 Sale
Botanical Name -  Achillea millefolium
Other Names - bearberry, cascara, chittem bark, sacred barkMilfoil, Noble Yarrow, Nosebleed, Thousand Leaf, Millefolium,old man's pepper, devil's nettle, sanguinary and nosebleed plant,
Origin - Albania
Yarrow is a flowering perennial, common in North America but also native to Europe and Asia. Its leaves are soft and highly segmented with a characteristic appearance that is almost feather-like. Yarrow grows stalks during the summer months, with a height that is dependent upon the seasonal rainfall. During dry years, these stalks may only grow a foot or two, preserving energy in its roots. Clusters of tiny white flowers grow atop the stalks, emitting a distinctive and characteristic aroma.
In the 17th century, this herb was actually a very popular vegetable. Then the leaves were commonly prepared and consumed like spinach. Today, it's an underutilized culinary and medicinal herb.
Typical Preparations -  Powdered yarrow is traditionally used to prepare infusions and poultices for topical use.
Packaging - We package all of our herbal, fruit powders and spices in a heat sealed mylar bag which serves as a very effective barrier to light, oxygen, odors, flavors, moisture, and bacteria. The bag can be resealed with any household iron or curling iron.
Precautions - Not for use by children, pregnant women or if there is a history of Crohn's disease or other gastrointestinal disorder. If you are taking any other herbs or supplements please consult with a qualified health-care provider before starting any new regimen. If you are pregnant or breast feeding, consult with your physician before taking.
Disclaimer - The information presented herein by Stone Creek Health Essentials is intended for educational purposes only. These statements have not been evaluated by the FDA and are not intended to diagnose, cure, treat or prevent disease. Individual results may vary, and before using any supplements, it is always advisable to consult with your own health care provider.
*  Due to the nature of natural ingredients, physical attributes may differ from lot to lot (color, taste, etc). Please consult with a representative for more information on current lot. Stone Creek Health Essentials will not accept returns on ingredients compared to lots over 30 days old. Product images are for illustrative purposes only and may differ from the actual product due to differences in monitors, product batch/lot and etc. Please contact a Stone Creek Health Essentials representative with any questions. We're here to help
.Warning: Persons with allergies to other members of the Asteraceae family (such as feverfew, chamomile, or echinacea species) should exercise caution with yarrow, as allergic cross-reactivity is common to Asteraceae plants.