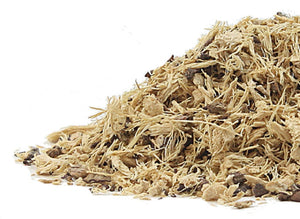 Yucca Root c/s
Regular price $31.00 Sale
Botanical Name - Yucca schidigera
Other Names - amole, soapweed, soapwell
Typical Preparations - Usually in tea, capsules and as an extract.
Equine Usages - Yucca is an herb that is used to support joint health and comfort in older horses or any horse experiencing stiffness and discomfort. May support a healthy inflammatory response during normal daily exercise and activity.   Recommended Amount:  2 Tablespoons per day, based on 1000 lb. Horse.
Yucca is a succulent that grows throughout the southern United States. Tribes of the Southwest use the yucca's leaves to make soaps, shampoos and other hygiene related items, including dental floss.
Infuse in witch hazel extract for topical use. Yucca root hot water infusions are used to make soap and shampoo.
Yucca root is used in animal feed and in deodorizing pet products.
The information presented herein by Stone Creek Health Essentials is intended for educational purposes only. These statements have not been evaluated by the FDA and are not intended to diagnose, cure, treat or prevent disease. Individual results may vary, and before using any supplements, it is always advisable to consult with your own health care provider.
*  Due to the nature of natural ingredients, physical attributes may differ from lot to lot (color, taste, etc). Please consult with a representative for more information on current lot. Stone Creek Health Essentials will not accept returns on unsealed items or items compared to lots over 30 days old. Product images are for illustrative purposes only and may differ from the actual product due to differences in monitors, product batch/lot and etc. Please contact a Stone Creek Health Essentials representative with any questions. We're here to help.
*  In purchasing, international buyers agree to assume the risk of arrival of all items. We cannot replace lost or seized items. By ordering customer confirms agreement to these terms and conditions.